Your Key To Health And Longevity
We've teamed up with Activation Products and put together a special offer just for Activation's loyal customers.


Your Key To Health And Longevity
Did The Ancient Chinese Know More?
3 Keys to Radiant, Lifelong Health and Wellness
(It took years for Western medicine to realize this)
Are you out of balance?
There's one easy way to tell…

Anyone who's experienced fatigue, stress, frequent colds, memory loss or not slept well knows the feeling.

Here's what a doctor of Traditional Chinese Medicine (TCM) would tell you:
Instead of focusing all of the attention on individual symptoms, doctors of traditional medicine view the body as interconnected systems.
It's balance!
The 3 Treasures of Optimal Health Are Jing, Qi, and Shen

Let's Let Dr George Explain:
---
Jing - Your Vital Essence
Jing is your inherited or ancestral energy, you're born with it and you only have a finite amount.
The amount of Jing energy we have determines how much vitality and longevity we have. When you run out of Jing, completely, that's when life is said to end.
Every metabolic process in your body uses up some of your Jing energy.
It needs to be preserved and protected!
Jing energy, in Western terms, is associated with the Kidney/Adrenal complex, and is critical for mental acuity, creativity, sexual and physical energy, and reproductive health.
When we're young, we have excess Jing, which is why children are so full of life and vitality.
Most people in their youth are full of energy and feel like they're invincible, most don't realize that the unhealthy lifestyle choices they make cause them to leak their Jing.
If any of these sound familiar to you, you should start protecting your Jing now:
Sacrificing sleep
Alcohol and drug use
Working around the clock
Not maintaining a healthy diet of nutrition foods
Engaging in excessive sexual activity
Every metabolic process in your body uses up some of your Jing energy.
Signs that you may already be deficient in Jing are:
Back pain
Knee pain
Graying hair
Weight gain
Poor eyesight
Memory loss
The good news is that you can nourish your kidneys, revitalizing and protecting your Jing energy with Yang tonics like Eucommia and Morinda and the Yin tonic Rehmannia 6. All three of which are in our Restore The Jing tonic.
Qi - Your Everyday Energy
Qi is your day to day energy, it's short term and requires constant replenishment.
It's associated with the digestive system and the lungs and it's generated from the air that you breath and the food that you eat.
We use Qi throughout the day in our actions and thoughts - your brain consumes 40% of the energy your body uses in a day.
Think of Jing like your backup battery, when Qi is depleted your body will naturally dip into the backup battery (Jing) to keep going -- that battery has a limited capacity!
If any of these sound familiar you may have a Qi deficiency:
Fatigue
Shortness of breath
Spontaneous sweating
A weak pulse
Brain fog and poor focus
Since a Qi deficiency will start depleting your Jing, a severe or prolonged case of Qi deficiency will look like a Jing deficiency.
If you're not:
Eating a healthy diet
Exercising regularly
Getting sufficient rest
Staying calm and relaxed
You're most likely depleting your Qi and thus your Jing.
There are classic Tonics like Activate The Qi that can help you protect and boost your Qi energy.
Shen - Your Spiritual Energy

Shen is your mental and spiritual energy, it's the highest vibration energy of all three.
It's your love, compassion and is the source of your state of consciousness and mental health.
Have you ever seen the light in someone's eyes? That's Shen!
Healthy and balanced Jing and Qi are necessary for healthy Shen, if either of those are out of balance your Shen is probably also out of balance.
You you experience any of the these, you may should work on boosting your Shen now:
Sadness
Fatigue
Lethargy or a low motivation
Disturbed sleep or insomnia
Classical Chinese Medicine has many herbs that can help you cultivate your Shen like Reishi, Albizia, Asparagus, and Polygala. All of which are in our Awaken The Shen tonic.
Let your spirit soar and your dreams come true as you connect to your divine energy and cultivate happiness on a moment-to-moment basis.
Are you looking to boost your longevity, day to day energy and let your spirit shine?

This special bundle covers all three Treasures:
In capsules or powders!

It is a perfectly balanced longevity tonic to replenish and vitalize the core energy of the body, your Jing Essence.
It helps to sustain energy and prevent burnout.
Ideal for: Anyone experiencing fatigue and looking to replenish energy as well as alleviate dryness.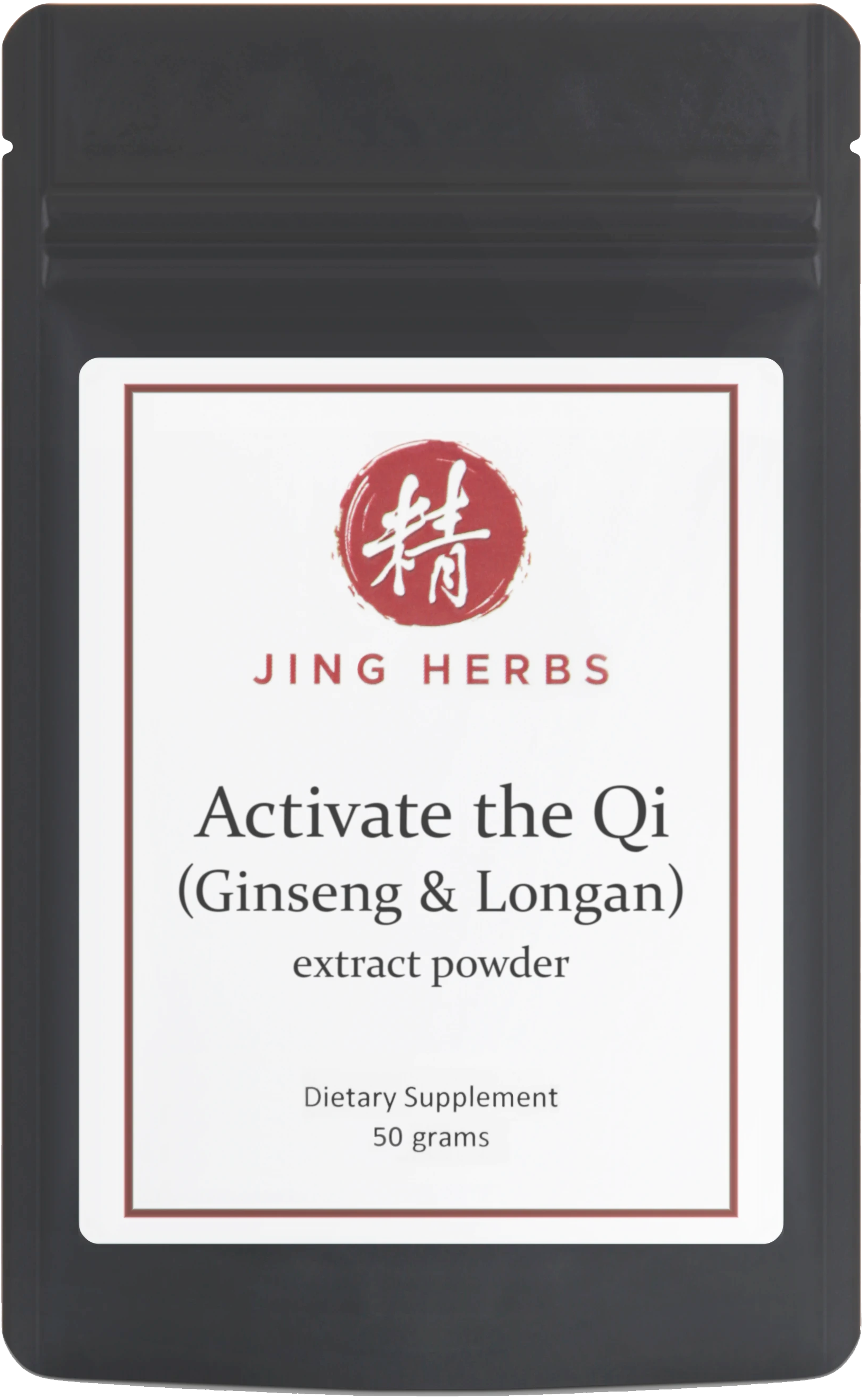 Provides energy during the day and helps you fall asleep at night.
It strengthens digestion, supports the building of blood, and has a calming effect on the emotions.
According to CCM, the Spleen and Stomach are the organs that are responsible for generating blood by transforming the essences from food.
When their function is compromised, the body has insufficient quantities of blood, leading to imbalances in the body, especially with the Heart.
The blood building herbs in this formula start with Longan fruit, which nourishes blood and calms the Spirit, and Dong quai, which tonifies and vitalizes the blood.
Ideal for: Anyone with low energy, blood deficiency, poor digestion, difficulty in falling asleep.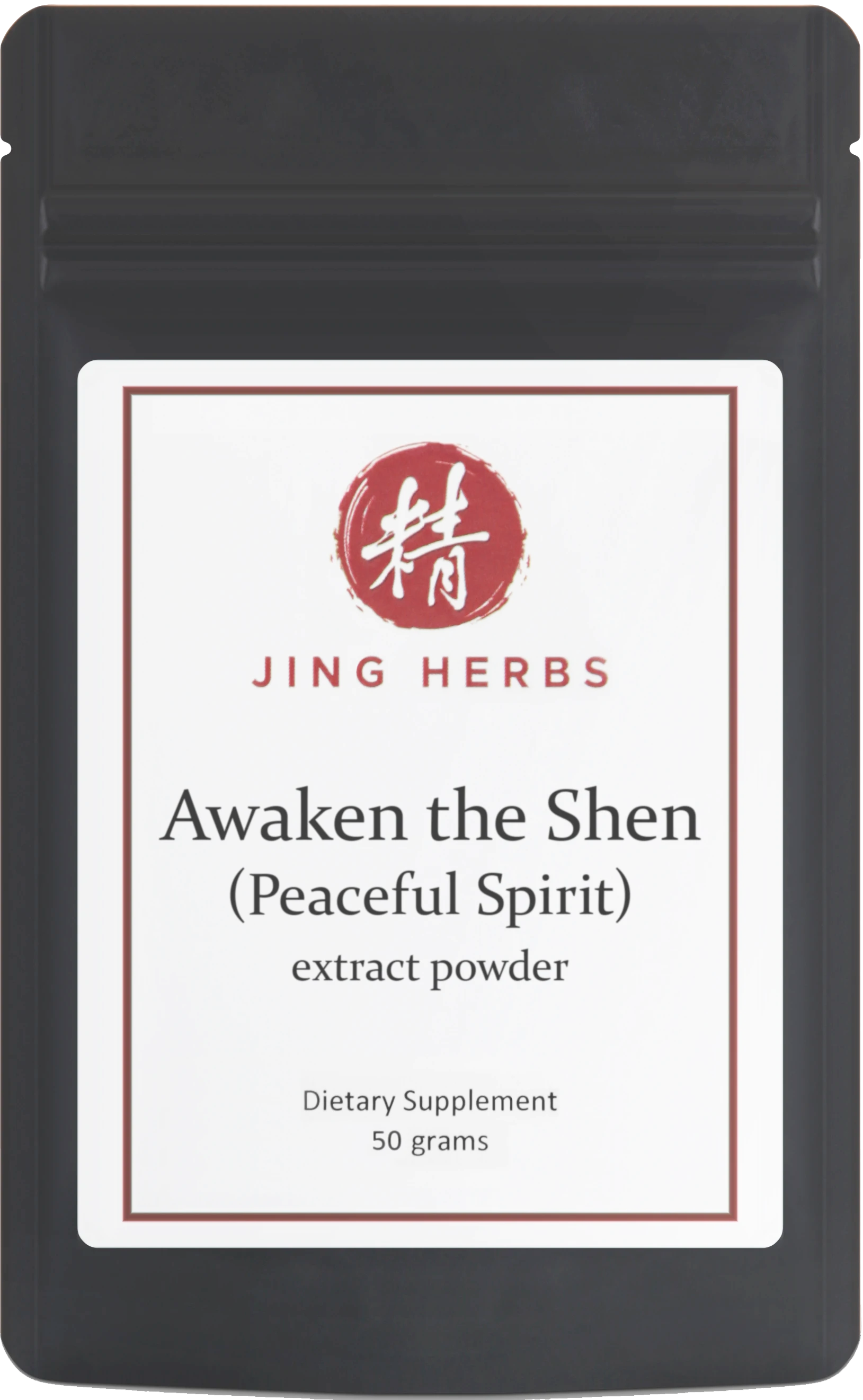 Life is short...so get happy now!
No formula does a better job of opening your heart to the joy and wonder of this world than Awaken the Shen (Peaceful Spirit is the capsule version).
The chief herbs, Reishi, Albizia, Asparagus, and Polygala together put a smile on your face and melt your worries away.
Let your spirit soar and your dreams come true as you connect to your divine energy and cultivate happiness on a moment-to-moment basis.
Don't let emotional distress, sadness, and feeling blue get you down any longer!
Ideal for: Anyone feeling emotionally stressed, agitated, anxious, or worried.
We Created This Special Offer To Help You Balance Your Treasures
(You won't find this on our website)
Supporting your Three Treasures is the most effective and sound way to take pro-active control of your health, happiness, and immunity.
This bundle provides you with that opportunity.
Restore The Jing: A perfectly balanced longevity tonic to replenish and vitalize the core energy of the body, your Jing Essence.
Activate The Qi/Ginseng and Longan: A formula that provides energy during the day and helps you fall asleep at night.
Awaken The Shen/Peaceful Spirit: Uplifts the spirit and opens the heart. Life is too short not to be happy and no formula does a better job of opening your heart to the joy and wonder of this world than Peaceful Spirit.
30 Day No Questions Asked Guarantee
We will accept a no questions asked return for a full refund on all products within 30 days of purchase.
After 30 days, Jing Herbs is happy to extend credit for the purchase price of the products towards a new order.
We Stand Behind Our Products!
The Activate The Three Treasures Bundle was designed to protect, nourish, and
balance the three fundamental energies in the body, known as Jing, Qi, and Shen.
Here's what just a few of our clients have to say:

GREAT ENERGY!

I add about a third of a teaspoon to my daily kale/oj smoothie and noticed feeling more energy throughout the day. Great product!
- A. on Oct 16, 2019
AMAZING PRODUCT

I started taking this for severe adrenal stress. Even though I was told it would probably be several weeks before I felt a difference, I started feeling markedly better after 4 days on this herb.
I'm starting to feel like myself again. My energy levels are returning and I feel like a new person.
- Sumi on Jul 06, 2020
CALM BOOST OF ENERGY!

When I'm too pressed for time to blend the powder form of this herb into a smoothie, I take these capsules in the am to provide higher energy levels during work day. Helps to thwart the late afternoon slump.
- A on Dec 30, 2019
Dr George Lamoureux - Founder
A Doctor of Acupuncture along with an Oriental degree in Traditional Chinese Medicine. Dr. George Lamoureux is considered one of the world's top authorities of Taoist tonic herbalism, health, longevity, and nutrition.
He has over 25 years of experience dedicated to the principles of protecting, nourishing, and balancing Essence, Energy, and Spirit for thousands of clients who have sought his expertise.
Los Angeles Confidential magazine referred to him as "one of the best herbalists in the country."
---
Thousands Of Years Of Health Knowledge
Our philosophy for health and longevity is based in Classical Chinese Medicine and Taoist principles dating back thousands of years.

Dr. George was introduced to the Taoist healing arts by his teachers Daoshing and Maoshing Ni. The Ni brothers shared the wisdom and family tradition of an unbroken line of physicians dating back 38 generations!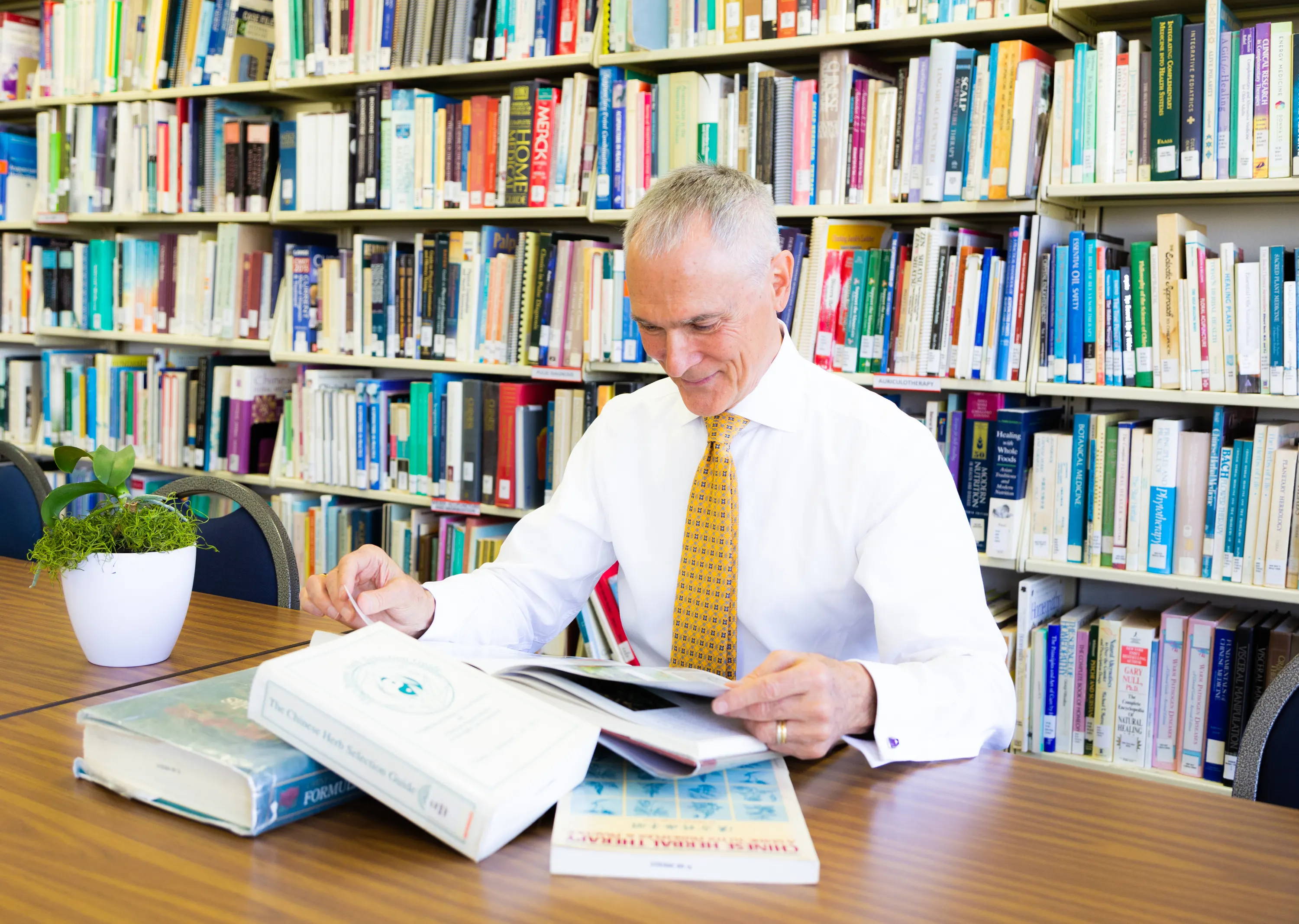 Quality, Safety & Purity Vertical Integration from Seed to Drum
We have partnered with a vertically integrated manufacturer. At the farm or wild-crafting site, our manufacturing partner ensures complete characterization of final product identity and composition first with the proper identification of the raw plant materials.
This raw botanicals purchasing group has extensive training in botany and Traditional Chinese Medicine that is indispensable during site visits. Over 70% of our incoming raw plant material is ethically wild-crafted.
---
We only purchase in small batches to ensure that you receive the freshest, highest quality tonic herbs.
The ingredients are spray dried into a powder and collected in an isolated temperature and humidity controlled clean room to prevent contamination from moisture, contaminants and other extract powders.
The finished powders are double bagged with an ultra low diffusion Mylar layer, then nitrogen flushed and packed in protective drums for additional quality assurance and freshness.